St. Luke's Official Logos
Please use only these logos, so that we can maintain a consistent image of St. Luke's. The different logos are intended for different placements.
Do not copy the images on this page (they are only small thumbnails). Please click on the name below the version of the logo you'd like, then copy the image that comes up.
Black and white version, for use in black and white documents: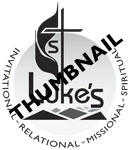 135K, 878x1024
Three-color version (purple and black, plus red flame), for use where the number of colors is not limited: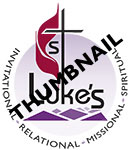 149K, 878x1024
Two-color version (purple and black), for use in documents with black and one other color: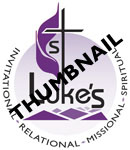 150K, 878x1024
Purple logo, for use in single-color purple documents (e.g., letterheads):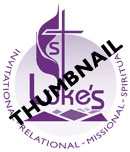 94K, 782x905
Reverse logo, for use on dark backgrounds. You will need to save this file.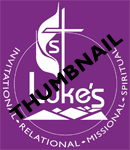 17K, 878x1024
"Low resolution" logo, for use only in situations where the "Invitational Relational Missional Spiritual" text will be too small to be read: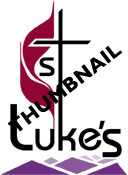 57K, 537x743
Arbitrarily large versions of the logos, and versions of the logos with background transparency, can be generated from this file (contact the website team if you need help).