Who We Are
We welcome you to our Christian family, where we share life. Wherever you are in your faith journey, you are accepted and encouraged to grow spiritually. Join us in growing together toward full humanity through living the teachings of Jesus: Love, Acceptance, Justice and Hope.
Who We Are ... As United Methodists
---
Our Vision and Mission:
Guided by the spirit of God, St. Luke's is an inclusive community of faith, seeking to meet people where they are, growing together toward full humanity, through living the teachings of Jesus: Love, Acceptance, Justice, and Hope.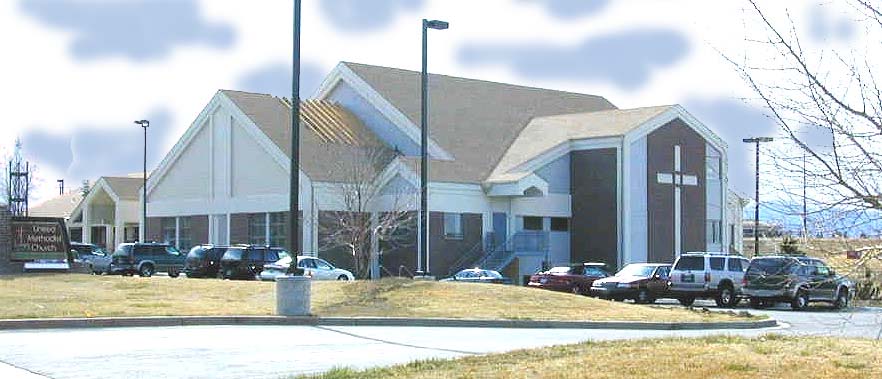 We Are:
A diverse congregation, welcoming all who seek a meaningful Christian worship and education experience, regardless of their prior church affiliation or faith background.
A place where people can feel accepted as they seek hope and strength for life in an increasingly complex world.
A lively mix of children, youth, singles, young families, empty nesters and seniors.
An active church with a strong missions program, reaching out to those in need in the community and the world.
A church of variety, with many different educational, service, support and social groups. We offer other preschool and parents' day out programs, sports leagues and a variety of means for connecting with others who have similar interests.
As United Methodists, we are in dialogue with four guides in developing our faith:



| | |
| --- | --- |
| SCRIPTURE | Rather than simply taking the Bible literally, we take it seriously as a meaningful expression of God's history with the human family. |
| TRADITION | Our spiritual journeys do not occur in a vacuum. We learn from the wisdom and traditions of the past. |
| REASON | We do not have to park our brains at the door of the church to be Christians. While faith is passionate, we engage the careful use of our minds to integrate our beliefs with knowledge. |
| EXPERIENCE | Faith is both individual and corporate. It is shaped by and must relate to our experience. |
The Church:
We are located at


8817 S. Broadway
Highlands Ranch, Colorado 80129-2301


and are a few blocks south of the Broadway exit on C-470.
We may be contacted at (303) 791-0659; messages may be left via voice mail 24 hours a day, and they are checked on a regular basis.
Our fax number is (303) 791-0659 x121
Send email to the St. Luke's Office
The church office is open Monday through Friday, 8:00am to 5:00pm
Our Values: Relational, Invitational, Missional, Spiritual
Being RELATIONAL, INVITATIONAL, MISSIONAL, and SPIRITUAL are the core values of the St. Luke's community, serving as the framework through which we live our mission. These values do not stand alone. If lived authentically, each one contains all the others, serving as the RIMS that focus our ministries.

We believe that we are made, by God, for relationship with God, with others and with ourselves. RELATIONAL means our lives are not merely lived, but are to be shared. We express this at St. Luke's with the NET by connecting with one another through learning, worship, support, fellowship, recreation, mission, and in small groups. Our connectedness encompasses the neighbor next to us, across town and around the world.

We believe that all people are part of the family of God, thus one invitation is "Whoever you are, wherever you are in your life, there is a place for you here". All are welcome into our community. We are meant to meet each person where they are. The second invitation is to growth. Being INVITATIONAL means taking seriously faith development and encouraging one another to embrace life in all its joys and difficulties. This invitation to authentic discipleship also means critical reflection on whatever life issues may confront a person.

We believe that our faith helps us move beyond "me" and centers us on giving back to life, and working together for something greater than ourselves. This is an unavoidable commitment to all people. Being MISSIONAL means a radical hope for God's people, and addressing issues of justice at all levels. We serve with a pure heart and with the gifts that have been given to each one of us to be God's hands in the world.

We believe that, together, we can engage in practices that will help us to attend to the life of God's Spirit in us and in the world. The SPIRITUAL life in Christ is a reality that has already been given to us. It is ours to claim if we have the courage to embrace it. The Christian journey is different from the patterns of the world we know so well. In place of degradation, it means reverence and respect for all of life. Instead of the politics of power, it embodies humble and joyful service. In place of retribution and revenge, it offers forgiveness and reconciliation. Beyond the forces of diminishment, it holds out healing and life. Instead of fear and anxiety, it offers trust in God. As a spiritual people, we align our lives to this transcendent compass.
The Website: www.StLukesHR.com
Privacy Policy:

Email addresses are either hidden on the web site or otherwise protected to protect them from being used by others to send spam. A capability has been provided to contact members by email by clicking on the appropriate links.

St. Luke's includes on our web site personal telephone numbers only with the permission of the number's owner, or if the number has already been included in other St. Luke's publications.

No data about members or constituents of St. Luke's which is posted on the St. Luke's web site is to be used for commercial purposes.
---
Who we are, as United Methodists
Sources for the following material include a 6-week course on United Methodism taught in 2000 by Reverend Esther Miyahara-Cho and some of the Additional Resources below.
We also offer an occasional course on Methodism.
Methodism began as a grass roots student movement for spiritual renewal in the Anglican Church of England in the 1700s. John Wesley (1703-1791) and his brother Charles Wesley (1707-1788), with a handful of like-minded college students at Oxford University, gathered regularly to engage in a life centered on their faith and their religious beliefs. They held one another accountable to a "methodical" way of living which included traditional acts of devotion (prayer, fasting, holy living, constant communion, and meditation), rigorous intellectual engagement (reading, debate, and discussion of classical works), and social action (visiting prisons, tending the poor, etc.).
As members of this small group of "People called the Methodists" traveled to the New World, their "Methodist" approach to spiritual revival was introduced to the United States in the early 1730s. With the onset of the Revolutionary War, America broke ties with the Church of England, and this movement for spiritual renewal developed into a new Protestant denomination in itself, with the beginning of the Methodist Episcopal Church in 1784. In 1968, The Methodist Church (itself a product of several branches of American Methodism) merged with the Evangelical United Brethren Church to form the current United Methodist Church. The United Methodist Church owes its heritage to many branches of the Wesleyan and Methodist tradition, and remains a denomination built upon the values of piety, social action, intellectual engagement, and spiritual renewal.
The Methodist Church, in its many forms throughout the years, has also been arguably the most "American" of American denominations. It is a church that began by declaring its independence from its roots in England, and whose history has followed very closely the history of the nation. The issues that have divided the United States throughout its history have also divided the Methodists, and the challenges which the United States faces as a nation are also reflected in the issues and challenges with which the United Methodist Church struggles as a denomination. These issues are debated at the quadrennial General Conference, the legislative body of the denomination.
United Methodist Beliefs (from www.umc.org)
Wesley believed that the living core of the Christian Faith was revealed in scripture, illumined by tradition, vivified in personal experience, and confirmed by reason.
As United Methodists, we believe:
in a Triune God (the Father, Son, and Holy Ghost);

in the Grace of God, which precedes salvation;

that penitent sinners are justified or accounted righteous before God only by faith in our Lord Jesus Christ, and that we are never accounted righteous before God through our works or merit;

in Sanctification and Perfection;

that faith is made evident through Good Works;

and in the two sacraments of Baptism and Communion.
The Mission of the Church is to make disciples of Jesus Christ. Local Churches provide the most significant arena through which disciple-making occurs. The diversity in local United Methodist Churches also represent the variety of ideas, cultures, beliefs, and approaches to this mission of discipleship that make up the diverse and inclusive nature of the United Methodist Church as a denomination.
As St. Luke's United Methodist Church, we believe that we are called to be an inclusive community of faith, striving to meet people where they are, and to live the teachings of Christ: love, acceptance, justice, and hope. See also: Who We Are ... As St. Luke's
SCRIPTURE
United Methodists share with other Christians the conviction that Scripture is the primary source and criterion for Christian doctrine. Through Scripture the living Christ meets us in the experience of redeeming grace. We are convinced that Jesus Christ is the living Word of God in our midst whom we trust in life and death.
TRADITION
The story of the church reflects the most basic sense of tradition, the continuing activity of God's Spirit transforming human life. Tradition is the history of that continuing environment of grace in and by which all Christians live, God's self-giving love in Jesus Christ. As such, tradition transcends the story of particular traditions.
EXPERIENCE
Some facets of human experience tax our theological understanding. Many of God's people live in terror, hunger, loneliness, and degradation. Everyday experiences of birth and death, of growth and life in the created world, and an awareness of wider social relations also belong to serious theological reflection.

A new awareness of such experiences can inform our appropriation of scriptural truths and sharpen our appreciation of the good news of the kingdom of God.

REASON
Although we recognize that God's revelation and our experiences of God's grace continually surpass the scope of human language and reason, we also believe that any disciplined theological work calls for the careful use of reason. By reason we read and interpret Scripture. By reason we determine whether our Christian witness is clear. By reason we ask questions of faith and seek to understand God's action and will.
TRIUNE GOD
There is but one living and true God, everlasting, without body or parts, of infinite power, wisdom, and goodness; the maker and preserver of all things, both visible and invisible. And in unity of this Godhead there are three persons, of one substance, power, and eternity--the Father, the Son, and the Holy Ghost.
GRACE OF GOD
Grace pervades our understanding of Christian faith and life. By grace we mean the undeserved, unmerited, and loving action of God in human existence through the ever-present Holy Spirit. While the grace of God is undivided, it precedes salvation as "prevenient grace," continues in "justifying grace," and is brought to fruition in "sanctifying grace."
SANCTIFICATION AND PERFECTION
We believe sanctification is the work of God's grace through the Word and the Spirit, by which those who have been born again are cleansed from sin in their thoughts, words and acts, and are enabled to live in accordance with God's will, and to strive for holiness without which no one will see the Lord.
FAITH AND GOOD WORKS
We believe good works are the necessary fruits of faith and follow regeneration but they do not have the virtue to remove our sins or to avert divine judgment. We believe good works, pleasing and acceptable to God in Christ, spring from a true and living faith, for through and by them faith is made evident.
ONE UNIVERSAL CHURCH
United Methodists respond to the theological, biblical, and practical mandates for Christian unity by firmly committing ourselves to the cause of Christian unity at local, national, and world levels. We invest ourselves in many ways by which mutual recognition of churches, of members, and of ministries may lead us to sharing in Holy Communion with all of God's people.
SERVICE TO THE WORLD
John Wesley, the founder of the Methodist movement, said there was no religion except for social religion. In his name and in his spirit The United Methodist Church reaches out to establish peace and justice in the world.
SACRAMENTS
We believe the Sacraments, ordained by Christ, are symbols and pledges of the Christian's profession and of God's love toward us. They are the means of grace by which God works invisibly in us, quickening, strengthening and confirming our faith in him. Two Sacraments are ordained by Christ our Lord, namely Baptism and the Lord's Supper.
BAPTISM
The baptismal covenant is God's initiating word to us, proclaiming our adoption by grace, and our word to God, promising our response of faith and love.

Baptism brings us into union with Christ, with each other, and with the Church in every time and place. (Romans 6:3-11, 1 Corinthians 12:13; Galatians 3:27-28). Because baptism initiates us into Christ's whole Church and not only into a denomination, United Methodists recognize all Christian baptisms and look upon baptism as something that should unite, rather than divide. Holy baptism is administered once, but may be reaffirmed each time we partake of the Sacrament of Holy Communion or in services of "Reaffirmation of the Baptismal Covenant."

COMMUNION
Holy Communion is a sacred meal in which the community of faith, the Church, thankfully proclaims and enacts all that God has done, is doing, and will continue to do for us in Christ. In communion we remember, with thanksgiving, the grace given to us in our baptism and partake of the spiritual food necessary for sustaining and fulfilling the promises of salvation. The Thanksgiving and communion, commonly called the Lord's Supper, is a Christian adaptation of Jewish worship at family meal tables--as Jesus and his disciples ate together during his preaching and teaching ministry, as Jesus transformed it when he instituted the Lord's Supper on the night before his death, and as his disciples experienced it in the breaking of bread with their risen Lord. (Luke 24:30-35; John 21:13).

Early Methodism continued the New Testament church's emphasis on Word and Table, taking the gospel into the world by preaching and singing and by celebrating of the holy meal. Today The United Methodist Church is reclaiming our biblical and historical heritage, as we seek to worship God "in spirit and in truth."