Guatemala Mission, March, 2008
St. Luke's is conducting a return mission trip to Guatemala, from March 15 to March 24, 2008, in Lemoa in the department of Quiché near the highland center of Chichicastenango. Our previous construction mission trips were in March, 2005, March, 2006 and March, 2007. Most of the population there is indigenous Mayan. Lemoa was especially hard-hit by massacres and destruction of villages during the years of "La Violencia", guerrilla rebellion and army repression which ended just recently in 1996. We will be working with local people in a construction project, and will also be spending time each day with children in a Bible school program. We will primarily be building adobe homes for widows. We may also do some work at the orphanage across the street. We will have planned activities with the local children each day at the Lemoa elementary school. We will also spend time at the John Wesley School in nearby Santa Cruz. Look here for the itinerary. See puravida.org for more details about Lemoa.
You may contact the missionary team while they are in Guatemala by sending email here.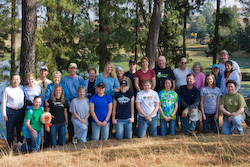 Please also visit Bob Utter's blog, Robsblog50.blogspot.com.
You may click on any photo to see a larger version.
Sunday, 3/16/2008
Everyone arrived safely today in Chichicastenango. The flights from Denver through Los Angeles to Guatemala City were uneventful, except that we ran into Alice Cooper at LAX. The weather is absolutely beautiful. We spent some time shopping at the market next to our hotel and getting settled. In the afternoon, we attended services at the nearby Methodist church; John Williams and Sallie Suby-Long were invited to speak to the congregation.
| | | | | |
| --- | --- | --- | --- | --- |
| | | | | |
| Kristina Carnes, Shelly Richards, Rachel Suby-Long, Beth Richards and Sallie Suby-Long with Alice Cooper and his wife | | Bob Utter, Tom Suby-Long and Sarah Suby-Long shopping in Chichicastenango | | John Williams and Sallie Suby-Long at the church service |
Monday, 3/17/2008
We began the day by visiting the John Wesley School in Santa Cruz del Quiche. This Methodist School offers quality education up to the 9th grade; the public schools only offer education to the 6th grade. Several missionaries sponsor children at the school and were able to spend time with them; some met their sponsored students for the first time. We conducted a Bible Camp for the students, including crafts, puppets, field games, tattoos, bubble blowing, hula hoops, and jump roping. The camp went more smoothly than ones in the past; conducting at a school helped a lot.
After lunch at the Methodist Retreat Center in Lemoa, we visited the sites of the two adobe homes we'll be working on. Local workers have brought the construction to the point where the roof is ready to be put on. We began work on Adobe 3, which is close to the Retreat Center; we'll begin on Adobe 4, which is up a trail which climbs a long hill past numerous dangerous dogs, tomorrow morning. By late in the afternoon, we also agreed to help with the construction of an additional home, Adobe 5. We visited the children at the orphanage, Hogar del Nino, before returning to our hotel for dinner.
We finished the day with one of our nightly devotions led by Sallie Suby-Long. Everyone is in good spirits and good health.
| | | | | |
| --- | --- | --- | --- | --- |
| | | | | |
| Jerry Hertzler meets with his sponsoree | | Laura Richards helps with crafts | | Kristina Carnes and her blue group of students |
| | | | | |
| | | | | |
| Jim Wolff hands out "Jesus loves you" hearts | | Helping with the roof at Adobe 3 | | Playing cards with children at the orphanage |
| | | | | |
| | | | | |
| Devotion | | | | |
Tuesday, 3/18/2008
Today we began our construction work in earnest. It was a day of heavy lifting. Literally. At Adobe 3, we lifted adobe blocks above our heads to begin the roof. At Adobe 4, we moved 300 adobe blocks from the adjacent field to inside the home, in preparation for building the roof. Some of us have never been so dirty as we were today.
Work on Adobe 5 has been delayed until tomorrow, because of needed supplies.
Some of the younger missionaries also worked on a basketball court being built at the Retreat Center.
Last night we saw God at work. We met a local pastor at dinner who knows both Mark Ely (from Pura Vida, leading our trip) and Rev. Janet Forbes. He told us that his community desperately needs children's shoes. We had brought about 2 1/2 suitcases full of donated children's shoes with us. So this afternoon, we donated one of the suitcases of shoes to them.
| | | | | |
| --- | --- | --- | --- | --- |
| | | | | |
| Putting a roof on Adobe 3 | | Jan Rufien and Louise Hopkins move an adobe block | | Marilee Saxe moving a roofing timber |
| | | | | |
| | | | | |
| Joyce Carnes mixing mud for mortar at Adobe 4 | | Jennifer Calhoun moving adobe blocks the easy way | | Rachel Suby-Long, Kristina Carnes, Rebecca Suby-Long and Sarah Suby-Long working on the basketball court |
| | | | | |
| | | | | |
| Tom and Sallie Suby-Long and Sharon Williams donating children's shoes | | | | |
Wednesday, 3/19/2008
Today was much like yesterday; most of the team worked on adobe homes. We started adding rows of adobe blocks to Adobe 5, we began the roof structure on Adobe 4, and we nearly completed the roof on Adobe 3. Many missionaries are complaining of sore muscles (and consuming a lot of Advil), but everyone is feeling great about all the visible progress being made.
The youth helped at the home of the "sisters," who provide religious support for the community. They washed windows, sanded furniture, and trimmed trees. Later, most of the group visited the sisters and heard the history of Guatemala and the causes of much of the poverty that we have been seeing. We also brought them a "care package;" their favorite items were the electric blankets.
A lot of skin is turning bright red, and a couple of people have minor ailments, but the general health of the team is pretty good.
| | | | | |
| --- | --- | --- | --- | --- |
| | | | | |
| Adding rows of blocks to Adobe 5 | | Tom Suby-Long and Bob Utter laying an adobe block | | Rebecca Suby-Long applying mud mortar |
| | | | | |
| | | | | |
| Local children helping move roof tiles at Adobe 3 | | Laura Richards, Cheryl Wolff and Joyce Carnes moving roof tiles | | Sister Connie with her new electric blanket, and Sharon Williams |
| | | | | |
Thursday, 3/20/2008
We finished our work in Lemoa today. We did a little tidying up at Adobe 3 and then blessed the finished home with the new owner, Maria. We spent most of our time making as much progress as we could on Adobe 5. In the afternoon, we blessed Adobe 5 and Adobe 4 with the owners: Juan and Marta, and Martha.
In the afternoon, we also spent some time with, and said some tearful goodbyes to, the children at the orphanage.
We had our first accident today; Jennifer twisted her ankle walking on a board which broke.
| | | | | |
| --- | --- | --- | --- | --- |
| | | | | |
| Blessing the finished Adobe 3 | | Making progress on Adobe 5 | | Blessing Adobe 4 |
| | | | | |
| | | | | |
| Shelly and Beth Richards playing volleyball at the orphanage | | Sharon Williams saying goodbye | | Kristine Fong and Lucinda |
| | | | | |
Friday, 3/21/2008
Today we went to the small village of Chontala for our last work day. We spent the morning working on chicken coops and the afternoon conducting a bible camp.
Mark Ely has a relationship with Pastor Jeronimo of the Methodist Church in Chontala. To help some of the poor women of the village, our mission team paid for the materials and labor to build 3 chicken coops. This will allow 3 women to get loans to buy baby chickens, raise them, sell them, pay off the loans, and make a profit. Today we worked on 2 of these 3 coops, putting concrete floors and chicken nets on the nearly finished coops.
Then we held a bible camp for about 100 children in the area. We did crafts, played field games, put on tattoos, jumped rope, held a puppet show, and handed out pencils and "Jesus Loves You" hearts.
In the evening, we were fortunate to watch one of the Good Friday processions in Chichicastenango. Although this is the fourth mission trip for some of the team, we had never seen anything like this before.
Tomorrow we travel to Atitlan for a day of rest, on the way to Antigua (Sunday) and Guatemala City (Monday) for our trip back to Denver.
| | | | | |
| --- | --- | --- | --- | --- |
| | | | | |
| Kristine Fong, Joyce Carnes and Laura Richards putting a floor on a chicken coop | | Doing crafts at the bible camp | | Sarah Suby-Long putting on tattoos |
| | | | | |
| | | | | |
| David Moore helps with field games | | Good Friday procession in Chichicastenango | | |
| | | | | |