About Us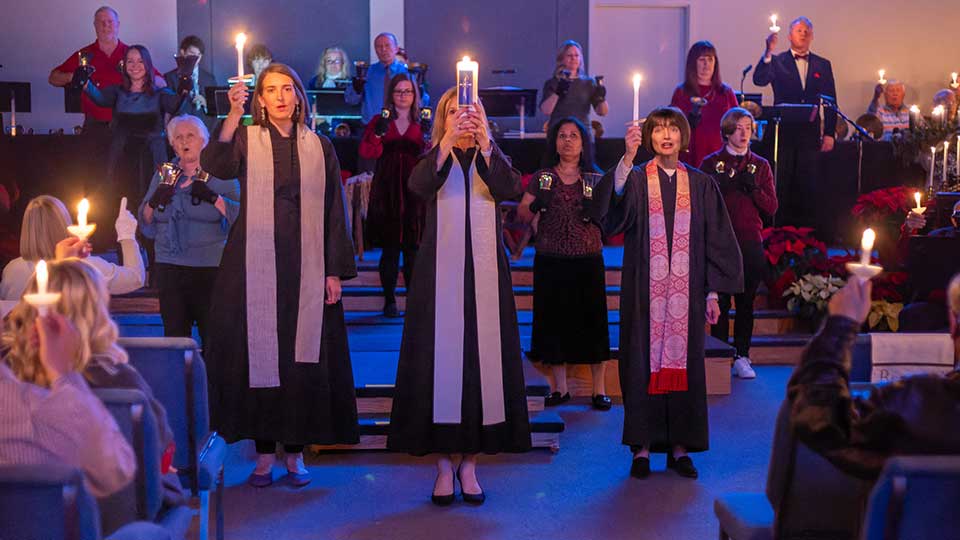 We exist to reflect God's love, deepen people's connection to Christ, and show compassion to all in a way that changes lives.
Our core values:
Grace - Because all have received God's grace, we in turn are called to extend to others respect, compassion, acceptance and love.
Courage - We take risks by welcoming different viewpoints, engaging in difficult conversations, and moving beyond comfort zones.
Wonder - Faith is a journey, not a destination. Wonder and curiosity inspire us to embrace the journey and explore the mysteries of God.
Beyond - God invites us to move beyond the self to others, beyond the norm to the new, and beyond our walls to the world.
Grace leads us to Courage. Courage moves us to Wonder. Wonder leads us to go Beyond. Beyond moves us to Grace for all.
---
Following the decision of the 2019 General Conference in St. Louis, the St. Luke's Clergy Team wants to affirm our support of the LGBTQ community and say that you are welcome here. We believe in full inclusion of LGBTQ individuals at all levels of church leadership and church life, and will continue to live out our values of love and inclusion based on the life and teachings of Jesus. (more)
Our St. Luke's community advocates for anti-racism and allyship, seeks justice and provides education and action opportunities to help us better support our brothers and sisters of color.
---
See our Overview
Sunday morning services are at 9:30 (in person and livestream) and 11:00am (in person).
Contact us:
St. Luke's is a United Methodist Church in the Mountain Sky Conference and is located at
8817 S. Broadway
Highlands Ranch, Colorado 80129-2301
We are a few blocks south of the Broadway exit on C-470. See a map here.
We may be contacted at (303) 791-0659; messages may be left via voice mail 24 hours a day, and they are checked on a regular basis.
Our fax number is (303) 470-5615.
Send email to the St. Luke's Office
The church office hours are 9:00am-1:00pm, Monday through Friday.
---
More about us:
Our Mission / Vision in photos (Kristin Foster photos)