Melinda Davidson once again invites us to her beautiful wellness experience, Nourish: Wholehearted Being and Living.Especially now, we all need experiences that nourish us, with spiritual richness, community, and healing. Melinda's creative adaptations to her Nourish program will enable us to experience all of these blessings in a safe, "virtual" manner, observing current social distancing guidelines.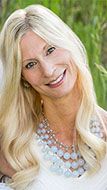 Nourish is a unique, deeply spiritual 2-part experience that includes:

1) One individual Reiki session with Melinda, who is a certified Reiki practitioner. Reiki's healing, integrative power can be experienced using a "no direct touch" technique. A Reiki healing session can be conducted remotely via an internet or phone connection. Alternatively, Melinda can provide a private space (with social distancing) on her beautiful outdoor patio. Individual, tailored-to-comfort sessions, alongside a pre-consult and post-consult, can be scheduled with Melinda during the months of April and May. Dates are currently open for booking; Melinda will contact you after registration.
2) A one-time virtual interactive cooking class on Saturday, June 5, 10:00am - 1:00pm. You'll meet in community via zoom, as you learn healthy cooking strategies and prepare nourishing foods in your own kitchen. The virtual gathering will provide time to engage with other participants as you savor new tastes, textures, and conversations together.
Registration: $120 (includes Reiki, the cooking experience, and a $20 donation to the ministries of CSE). You may register and pay using the form below.