Defying Gravity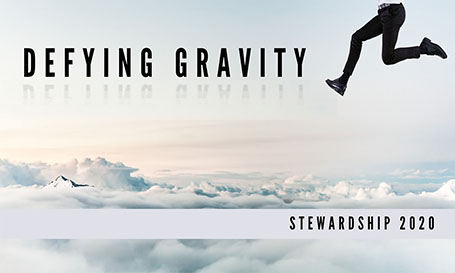 Defying Gravity

Defying the gravitational pull toward doom and gloom is definitely challenging these days, but with God, we can soar and rise above every challenge before us.
Defy gravity with us November 8-22, and see how far we can go!
November 8
This Sunday we will look at defying the gravitational pull toward the "what's in it for me?" mentality to the "how do I want to live my life?" call to reality, so that our outlook on life can be different, and so we can rise up to the challenge of our 2021 church budget goals.
Matthew 19:16-22
November 15
As people of God, we give our best because we trust the best, and there are three practical things to help us do this: budget, live simply and set a goal. Join us for some best practices and defy gravity with us!
Deuteronomy 12:10-11
November 22 - Commitment Sunday and Thanksgiving Sunday
Part of defying gravity is setting goals for generosity that rise above so we can continue to be a part of what God is doing in the world. Join your St. Luke's family and friends in our commitment to reflect God's love, deepen people's connection to Christ, and show compassion to all in a way that changes lives.
Matthew 6:19-21
---
Week 1: November 8, 2020
Sermon: " The Kingdom of Self vs the Kingdom of God, " Rev. Michele Kaminisky
Sound Bite
Sermon
Week 2: November 15, 2020
Sermon: " Live Simply, So Others Can Simply Live, " Rev. Michele Kaminisky
Sound Bite
Sermon
Week 3: November 22, 2020
Sermon: " The Miracle of Generosity, " Rev. Michele Kaminisky
Sound Bite
Sermon