The in-between time
Worship Series May 31 - June 28, 2020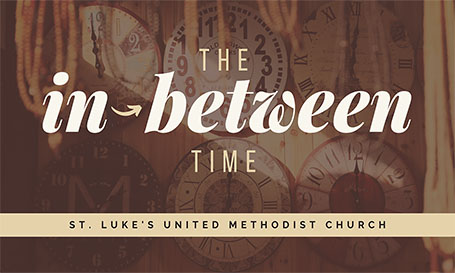 The In-Between Time
St. Luke's UMC Spring 2020 Worship Series
St. Luke's is entering a liminal space. Liminal spaces are transitional times and spaces. They are the waiting areas between one point in time and space and the next. It is the time and space where we are on the verge of something new.
Theologian Richard Rohr describes this space as: where we are betwixt and between the familiar and the completely unknown. There alone is our old world left behind, while we are not yet sure of the new existence. That's a good space where genuine newness can begin. Get there often and stay as long as you can by whatever means possible. This is the sacred space where the old world is able to fall apart, and a bigger world is revealed. If we don't encounter liminal space in our lives, we start idealizing normalcy. The threshold is God's waiting room.
St. Luke's is entering this liminal space as we transition clergy leadership. We are experiencing liminal space as we wait for a new and transformed community post-covid19. We are experiencing liminal space as we open ourselves to what might be, grounded in the goodness of who we have been. This liminal space is sacred, as together we say goodbye and hello.
May 31: Pentecost, Jessica preaching
Scripture: Acts 2:1-21
Title: The Beginning of Something New
June 7: Jessica's last Sunday
Scripture:
Title: Letting Go of the Good
June 14: Rev. Pat Shaffer preaching
Scripture:
Title:
June 21: Father's Day, Dave Money preaching
Scripture:
Title:
June 28: Jake Smith preaching
Scripture:
Title:
---
Week 1: May 31, 2020
Sermon: " The Beginning of Something New, " Rev. Jessica Rooks
Sermon
Week 2: June 7, 2020
Sermon: " Letting Go and Making Room, " Rev. Jessica Rooks
Sermon
Week 3: June 14, 2020
Sermon: " We Have a Story for the In Between, " Rev. Pat Shaffer
Sermon
Week 4: June 21, 2020
Sermon: " A Disturbing Lack of Faith, " Dave Money
Sermon
Week 5: June 28, 2020
Sermon: " The Spirit Goes On, " Jake Smith
Sermon