What About the Weird Stories?
Worship Series June 2 - August 25, 2019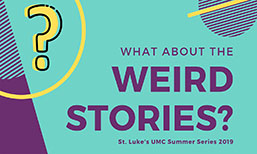 What About the Weird Stories?
Why did people write this down? Why did they feel the need to put words to this? Why did Ancient Israel and those among the Early Christian movement tell these stories—why did they tell them in this way? And why did these Scriptures endure? We're talking about the weird stories in the Bible, the ones you can't make sense of, the ones you read and say to yourself: "I just don't get it." In this series we'll explore some of the weird stories and see what they have to say to us in our world today— to see what they teach us about God and hope and love and community and loss and forgiveness and faith and compassion. We'll explore how these stories help us better understand our stories.
Week 1: June 2, 2019
Sermon: "Baldness and Bears," Rev. Jessica Rooks
Sermon
Week 2: June 9, 2019
Sermon: "Ehud Was Left-Handed," Rev. Ryan Canaday
Sermon
Week 3: June 16, 2019
Sermon: "Four Fathers," David Money
Sermon
Week 4: June 23, 2019
Sermon: "What About the Guy Who Was Swallowed By a Big Fish? Pt. 1," Rev. Ryan Canaday
Sermon
Week 5: June 30, 2019
Sermon: "What About the Guy Who Was Swallowed By a Big Fish? Pt. II," Rev. Ryan Canaday
Sermon
Week 6: July 7, 2019
Sermon: "God's Backside," Rev. Jessica Rooks
Sermon
Week 7: July 14, 2019
Sermon: &quotWait a Minute, They Both Just Dropped Dead?" Rev. Ryan Canaday
Sermon
Week 8: July 21, 2019
Sermon: "Living in the 'Catholic Spirit'," Monty Hoffman
Sermon
Week 9: July 28, 2019
Sermon: "Talking Donkey," Rev. Jessica Rooks
Sermon
Week 10: August 4, 2019
Sermon: "Holy Dogs and Pearly Pigs," Rev. Ryan Canaday
Sermon
Week 10: August 11, 2019
Sermon: "A Tower to Greatness," Rev. Jessica Rooks
Sermon
Week 11: August 18, 2019
Sermon: "By Faith - New Territory," Rev. Paul Kottke
Sermon
Week 12: August 25, 2019
Sermon: "Can't We Just Skip Leviticus?" Rev. Ryan Canaday
Sermon