Cambodia Mission

BACKGROUND INFORMATION
See the August 10, 2000 Highlands Ranch Herald article about Dalay Dy and our Cambodia Mission work.
The United Methodist Board of Global Ministries has a growing ministry in Cambodia. The vision to serve and bring hope back to the people of Cambodia includes: training leaders and teachers, helping students, agricultural support, clean water, medicine, food and clothing and church construction.
( See Facts About Cambodia )
You can personally be part of a unique outreach opportunity to Cambodia -- whether you stay right here in the US, or choose to take a challenging and rewarding trip to the Far East. Over the next months, the St. Luke's community will have the opportunity to make a difference in the lives of people from a rural village in Cambodia.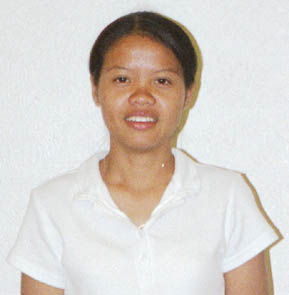 As a nation, the Cambodian people have suffered tremendous social, political and humanitarian injustices in the very recent past. In fact, organized religion was officially outlawed by the government until the early 1990's. However, now that restrictions regarding religion have been loosened, St. Luke's has an opportunity to support mission work that will strengthen the community of Siam Reap and help provide a brighter, more promising future for the children of the region.
Our work as a church consists of two phases. In the first phase, Dalay Dy, a Cambodian teenager, was "adopted" by our church family. Dalay comes from the French colonial town of Siem Reap. We brought her from Cambodia to be a "missionary in residence" from July 19 through August 15.
Dalay is interested in learning what it means to be part of a Methodist church in the United States, and hopes to learn more about pursuing a career in ministry.
She became a familiar presence around the church during her visit, and many people took the time to get to know her and include her in activities that made her feel welcome in our church community. Her visit was an opportunity for all of us to learn more about her culture and her homeland.
The second phase of our church's involvement will be a mission work trip, in January, 2001, to the village of Siam Reap, an underprivileged village in Cambodia. Our theme for this mission is MISSION POSSIBLE: CAMBODIA, with subthemes: "Sharing Hope," "Building Communities of Hope," "Healing Fields," and "Planting the Seeds of Hope."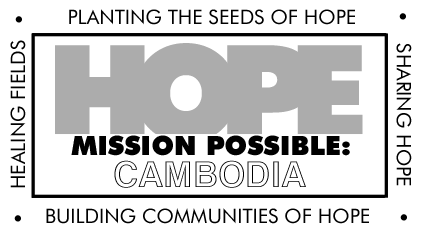 One of our Reverend Esther Miyahara Cho's lasting impressions of her trip to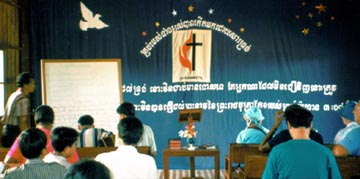 Cambodia was that the United Methodist church community of Siam Reap has a strong hope for the future. Cambodians lost everything during the era of Pol Pot. The individuals comprising the 140 families in the church, themselves near starvation, believe they are rich and want to share their riches with those in the community who they say "have nothing."
Their idea for "Sharing Hope" is building a community center (see map) in Siem Reap housing a school for children, an agricultural school for adults, a medical clinic and general meeting place. St. Luke's way of sharing that hope and doing something about it is our mission trip and the events leading up to it.
A group from St. Luke's will work and live among Dalay's friends and family for about a week, and will offer whatever assistance with the community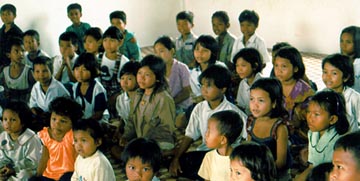 center is most needed at the time. The group will leave Denver on January 13 and spend a couple of days in Bangkok before arriving in Siem Reap. The return trip will include a couple of days in Singapore, before arriving back in Denver on January 27. (See Detailed Itinerary.) 25 adults are joining the trip, each paying their own way (estimated round trip cost is $1,700).
To help raise money and support for both, several events have taken place and others are being planned. To begin, the project has already received some of the proceeds from the April 28 benefit concert, which featured CU's Golden Buffalo Men's Chorus and our own Big Band, and received proceeds from a booth at the May 13 Flea market. The TASTE OF CAMBODIA and SILENT AUCTION fundraiser on August 12th was a big success and raised about $12,000!
Thanks to the many volunteers who helped shop for food, cook, entertain, set up, serve, and clean up for the event! Special thanks go to:

Khmer Christian Reform Church
Denver Cambodian Council of Fine Arts Performers
Dan Washburn and Fazoli's for the use of their Lemon Ice machine
Key Bank
Cathy Randel and the Highlands Ranch Herald.
With proceeds from the previous fundraisers and some additional contributions to be received, we have raised a total of about $20,000 for the Cambodia Mission! We have sent $16,000 to the UMC Global Board of Ministries for use in Siem Reap. $12,360 has been used to purchase the additional 4 lots needed to support the building of a Community Education Center for the families of Siam Reap (see map). Further fundraisers are under way to pay for building materials to be used in the January, 2001, mission. These include:
"Bricks for Hope" ($25 contributions)
Big Band and Organ concert, 11/4/00
Godspell musical and spaghetti dinner, 11/17 & 11/18
Sale of "War and Peace" vases
Sale of St. Luke's Polo- and T-Shirts
Cambodia Mission Project Meeting Minutes
Cambodia Mission Project Members
We are also benefiting from the efforts of other Cambodian mission efforts; see the Cambodia Mission work of the Jackson Hights (NY) UMC